Demographic Research in the Context of Economic Development and Security of Regions
Keywords:
demographic trends, population ageing, population migration, migrants, economic security, territory potential
Abstract
The present paper reviews the scientific research on key global demographic megatrends such as population ageing and migration that have a significant long-term impact on social and economic development. However, attitudes towards these demographic trends and their consequences range from seeing them as security threats to development opportunities. This review systematises demographic studies and identifies the most promising scientific areas to explain a wide range of consequences and propose relevant recommendations. Thus, a research algorithm was constructed in order to complete the following three tasks: (1) to analyse and classify the consequences of the described demographic trends for social and economic development; (2) to conduct a comparative analysis of such sources of filling the labour shortage in Russian regions as stimulating labour participation of pensioners and facilitating the access of foreigners to the labour market; (3) to identify literature gaps that require further attention. To create a database, keywords «population ageing» and «population migration» were searched in the main collections of Web of Science, Scopus and Russian Index Science Citation (RISC). The survey showed that ageing and migration do not hinder economic growth and well-being of the population. However, these demographic processes require effective policy development to comprehensively solve economic and social issues, as well as the problems of the elderly population and migrants. Therefore, ageing and migration should rather be seen as opportunities for territorial development, while poor adaptability of existing institutions to these processes is what threatens economic security. The conducted study shows that the problem of institutions' adaptation to modern demographic trends is not fully examined in scientific literature and requires further investigation.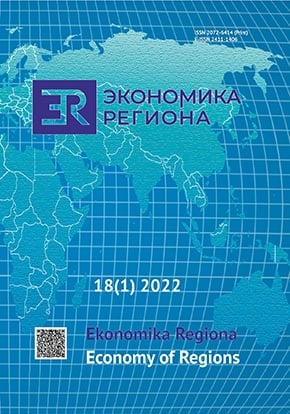 Downloads
How to Cite
Vasilyeva , E. V., & Vasileva , A. V. (2022). Demographic Research in the Context of Economic Development and Security of Regions. Economy of Regions, 18(1), 1–20. https://doi.org/10.17059/ekon.reg.2022-1-1
License
Copyright (c) 2022 Economy of Regions
This work is licensed under a Creative Commons Attribution-NonCommercial 4.0 International License.